Report on Compliance with the Bank of Russia's Corporate Governance Code
In 2019, the Company's efforts to improve corporate governance focused on updating its relevant internal documents in line with changes in FPC's Articles of Association and the laws of the Russian Federation as well as the Internal Audit Unit's recommendations following the corporate governance audit in 2018.
FPC's General Shareholders Meeting approved the following documents:
Updated Regulations on the Board of Directors of JSC FPC
Updated Regulations on Preparing and Holding the General Shareholders Meeting of JSC FPC.
The Board of Directors approved the following documents:
Regulations on the Anti-Corruption Hotline of JSC FPC
Updated Anti-Corruption Policy of JSC FPC
Updated Risk Management and Internal Control Policy of JSC FPC
Regulations on Monitoring Compliance with the Requirements of Anti-Corruption Regulatory Documents at JSC FPC
Amendments to the Regulations on Procurement of Goods, Works and Services for the Needs of JSC FPC
Regulations on Conflict of Interest Resolution at JSC FPC
Procedure for Planning, Reviewing and Monitoring the Implementation of Initiatives to Enhance the Reliability of Technical Means and Reduce Technical Failures at JSC FPC.
In the reporting period, the Company improved its corporate governance practice in line with the following recommendations of the Code:
Human Resources, Remuneration, and Corporate Governance Committee of the Board of Directors assessed nominees to the Board of Directors for required experience, knowledge, business reputation, and absence of conflicts of interest
The Board of Directors conducted a self-assessment of its performance as well as the performance of its Committees and individual Board members. The analysis covered the needs of the Board of Directors in terms of professional qualifications, experience and business skills of Board members, the number of Board members, and the performance of the Chairman of the Board of Directors
The Company's Annual Report contains the main results of the Board of Directors' performance evaluation. It also contains annual financial statements prepared under the IFRS, along with the auditor's report
FPC's Board of Directors approved the Company's Strategy until 2030.

More details on the Company's compliance with the Corporate Governance Code are available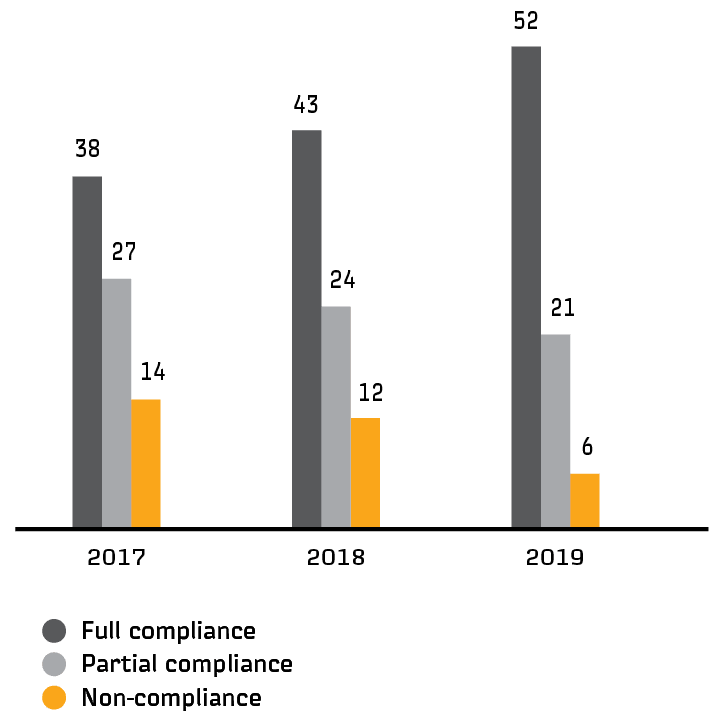 Sections
The number of corporate governance principles recommended by the Code
Compliance
Full
Partial
None
2017
2018
2019
2017
2018
2019
2017
2018
2019
Shareholder Rights
13
8
8
9
3
3
3
2
2
1
Board of Directors
36
15
15
23
14
14
11
7
7
2
Corporate Secretary
2
–
2
2
2
–
–
–
–
–
Compensation System
10
6
6
6
1
2
2
3
2
2
Risk Management System
6
5
6
6
1
–
–
–
–
–
Information Disclosure
7
2
4
4
4
3
3
1
–
–
Material Corporate Actions
5
2
2
2
2
2
2
1
1
1
Total
79
38
43
52
27
24
21
14
12
6